Two H2 Machine & 2 H2 Pitcher Pak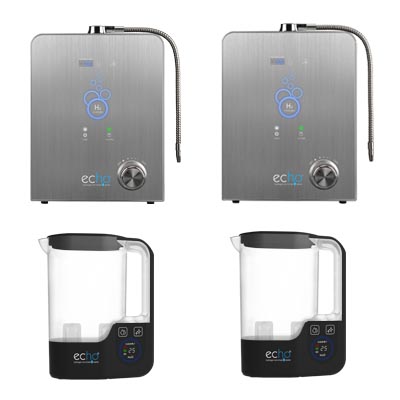 Two Echo H2 Machine & Two H2 Pitcher Pak
Machine:
The Echo H2 Machine is the first Echo Water Machine to have the proprietary Echo hydrogen module. This creates the cleanest, best-tasting hydrogen water while keeping pH neutral. We do this by running two streams of water through the Echo H2 Machine. One stream is used for harvesting hydrogen, and the other is hydrogen water that you drink. Once the water goes through electrolysis, it has -400 to -500mv ORP (Oxidation-Reduction Potential). This electrical potential stimulates healthy bacteria growth, repairing the gut and immune functions.
The Echo H2 Machine Countertop is specifically made for counter top use.
If you have a faucet that has a built-in combination pull-out sprayer and faucet or desire to have your device under the counter, please contact your NuLife Water Support Guide for details.
The Echo H2 Machine is backed by the Echo 5-year defects warranty which covers parts, labor, and shipping back to you.
Pitcher:
Hydrogen water is now portable with the Echo H2 Pitcher. Simply fill up the H2 Pitcher with your choice of purified or filtered water, press and hold to cycle between 10 or 20 minutes cycles. Ten minutes generates 1 PPM (Parts Per Million) of molecular hydrogen and twenty minutes generates up to 2 PPM of molecular hydrogen, allowing you to enjoy hydrogen water wherever you may be. The portable H2 Pitcher comes with a USB-C charging cord allowing you to make hydrogen water while charging or on the go. Maintenance for the Echo H2 Pitcher is as easy as turning on the cleaning setting.
The Echo H2 Pitcher is backed by an Echo 1-year defects warranty which covers parts and return shipping to you.
Featured Video
Installation Video