Echo H2 Server + Stainless Steel Faucet + H2 Pitcher Pak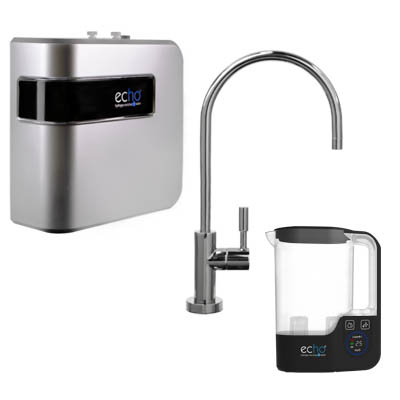 Echo H2 Server + Stainless Steel Faucet + H2 Pitcher
Server:
Meet the newest in under-sink Echo Technology, the Echo H2 Server. The Echo H2 Server is everything you love about an Echo, now designed to fit in even the smallest cupboard. This filterless unit is great for connecting to reverse osmosis or other whole-house filtration systems.
*Pre-filtration is required. The Echo H2 Server comes with the proprietary Echo hydrogen module, making the best hydrogen water without changing pH, all pumped out at 1.3 liters per minute.
Why Dring Hydrogen Water?
Hydrogen is one of the best antioxidants
Reduces oxidative stress and inflammation
Neutralizes free radicals
Provides triple the normal amount of therapeutic hydrogen
Supports cognitive function, immune system, increased energy, endurance and neurological function
The Echo H2 Server is backed by the Echo 5-year defects warranty, which covers parts, labor, and return shipping.
Pitcher:
Hydrogen water is now portable with the Echo H2 Pitcher. Simply fill up the H2 Pitcher with your choice of purified or filtered water, press and hold to cycle between 10 or 20 minutes cycles. Ten minutes generates 1 PPM (Parts Per Million) of molecular hydrogen and twenty minutes generates up to 2 PPM of molecular hydrogen, allowing you to enjoy hydrogen water wherever you may be. The portable H2 Pitcher comes with a USB-C charging cord allowing you to make hydrogen water while charging or on the go. Maintenance for the Echo H2 Pitcher is as easy as turning on the cleaning setting.
The Echo H2 Pitcher is backed by an Echo 1-year defects warranty which covers parts and return shipping to you.
Faucet:
The Echo Server Faucet is a manual faucet designed to work with the Echo H2 Server. With a simple turn of the handle, the Echo Server Faucet dispenses clean, refreshing hydrogen water right in the comfort of your home.
Featured Video
Installation Video